From the College Captain
For several reasons, it has always been an aspiration of mine to represent Whitefriars College as Captain. The chance to give back to such a supportive community, one that has been integral to the development of my identity, is thrilling. The chance to work with close friends, especially my Co-Captains, Alex Pisotek and Baxter House, is something that I find terribly exciting. I will use this opportunity to better myself (and the experience of those at Whitefriars) through adhering to the Carmelite values of community, contemplation and service, modelled by staff and past leaders.
Being the third of three brothers to come through the College, I have been a member of this community for the past 10 years. I have been sculpted through the guidance of my family, staff and peers who embody the College motto: Almae In Fide Parentis (In the Care of a Loving Mother). Without this guidance, I feel I would be unfit for the role I am honoured to occupy today.
For all of us, irrespective of how far we are through our Whitefriars journey, it is imperative to grasp every opportunity we are afforded, to work hard in our studies, but to also pause, reflect and enjoy the moment for what it is. The time we spend at Whitefriars flies by in a heartbeat… it feels like only last week that I was nervously awaiting my first day, in a baggy blazer and socks up to my knees. If only I had been aware of the wonderful characters and opportunities that would soon become the part of the fabric of my every day. My Mum's go-to slogan about school is, 'All you can do is your best' and whilst this may be slightly cliché, it is so important to remember. It is applicable not only in academics, but in putting your hand up for co-curricular activities, for stepping out of your comfort zone and for helping those around you.
Moving forward from the plight of 2020, it is crucial that we, as a community, gaze out in hope, to a better future, a future steeped in faith. Faith in God, faith in our community and most importantly, faith in ourselves.
As I, along with my Year 12 cohort approach the final bend of our time at the College, it is impossible not to feel an inexpressible gratitude for the education we have been given. And our luck, despite all of the global inequalities around us is immeasurable. The life we have been gifted; is something to be wholeheartedly cherished. For me, there is no better way to honour this privilege than to bring to school a smiling face, a serving hand and a compassionate heart, which I (and I'm sure the entire Whitefriars community) will strive to bring, day in and day out.
To staff, students – new or old – and to the wider Whitefriars community, I implore you to come to me for anything; for help, to have a chat, or even to spend some quality time in the company of a friend. I look forward to the year ahead; to growing and to learning, together.
Charlie Schroder, 2021 College Captain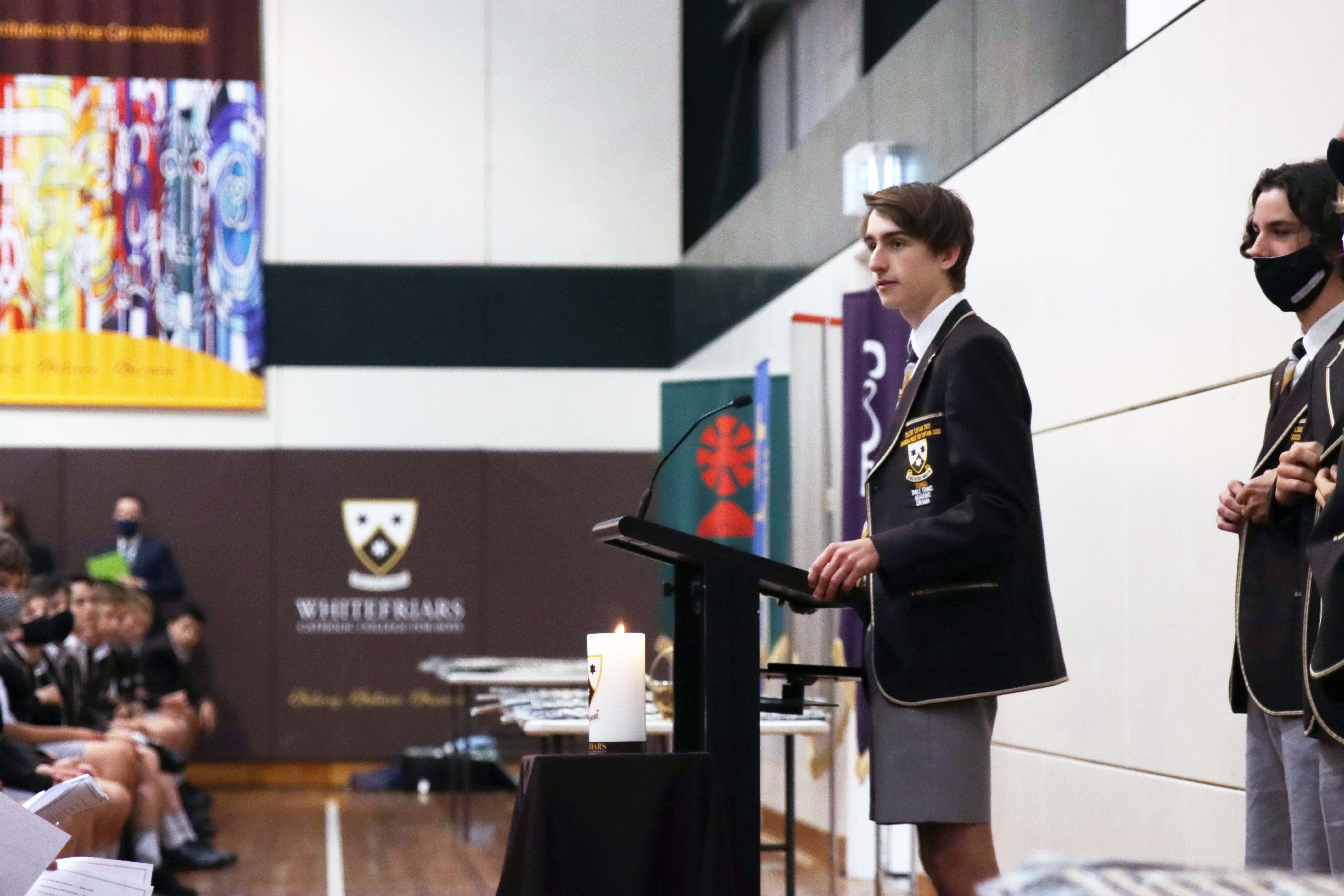 When he first arrived at Whitefriars, it was clear that Charlie was a natural leader. He has always been friendly and inclusive, and he makes an effort to connect with everyone he meets. As a student, he is a hard worker and a formidable speaker, and I've always been impressed with his curiosity and engagement with new knowledge and ideas.
Ms Claire Benne, Charlie's Pastoral Care teacher 2015-2021