Date:
Year 9 Immune System Engineering Challenge
To kick off the Home Learning Program experience, Year 9 students have started learning about the science involved in the Immune System.
Particularly given the impact of Coronavirus, there has been an increased demand for hygienic products such as hand soap and hand sanitiser. One of the broader learning activities presented to the students was an Immune System Engineering Challenge. Each of our Year 9 students were challenged to work individually or in pairs, to simulate a real-life scenario and assist the communities in Kenya from spreading diseases. The task required teams to design, build and test a device which would be able to dispense hand soap or sanitiser for the wider community.
The first lesson presented teams with a range of available material (either locally sourced or imported), with each item having a certain cost. Modelling an engineering project, each group was provided with a virtual budget of $125 to make a single device. Within this lesson, students were able determine their own groups and organise their individual roles in the team.
The second and third lessons were an opportunity for the teams to research possible solutions, design their device and create a prototype to be tested, evaluated and if needed, improved. Teachers of each of the classes were extremely impressed with all the groups' eagerness to work together and develop a model, without needing to buy any equipment.
By the final lesson, teams were asked to present their innovations. Each group were required to justify their choice of materials and techniques in building the device, and if possible, evaluate the success of their design.
Attached are some of the products of our brilliant Year 9 students.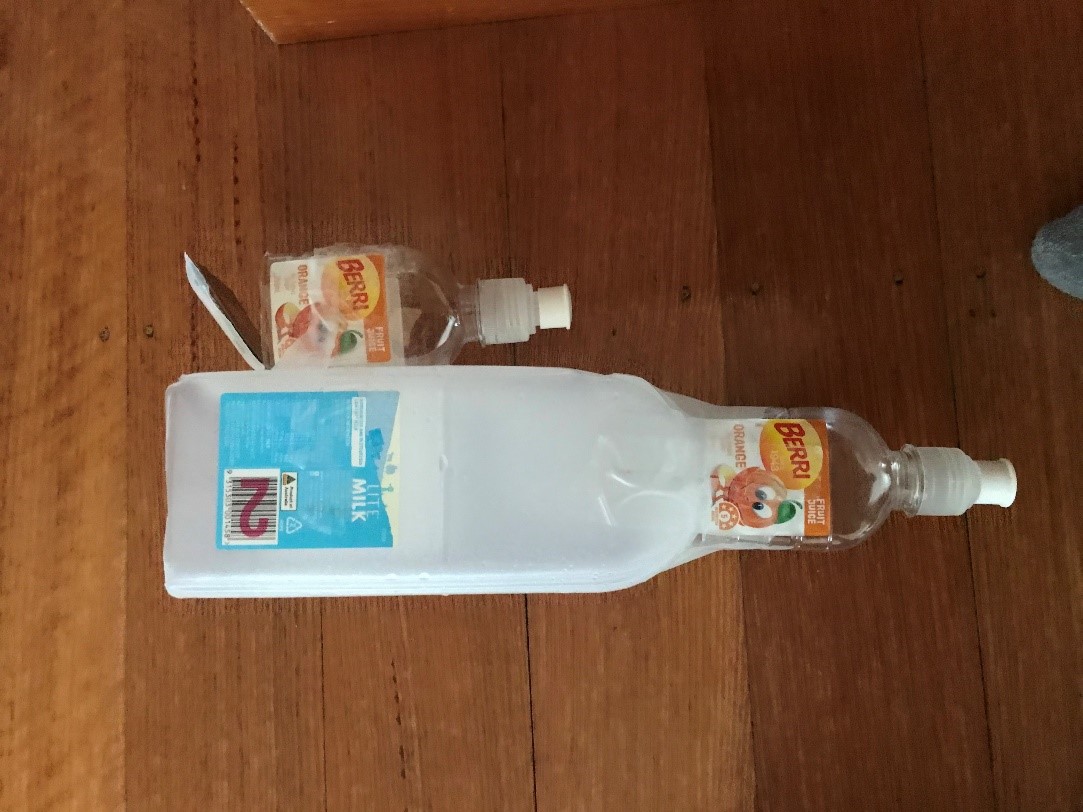 Jordan Regan and Dominic Paes – Main section to collect and dispense rainwater, smaller orange juice bottle to hold hand sanitiser/soap
https://www.youtube.com/watch?v=-CNOpPeoZiQ&feature=youtu.be
Sam Coxhead and Harry Geilman