Date:
Year 10 Ballroom Dancing Program
Each year, Our Lady of Sion College invite the Year 10 students of Whitefriars College to participate a Ballroom Dancing program. This is the first time in three years the program has been able to run due to the pandemic and it is fantastic to see the students from the two Colleges come together to socialise and learn a few handy skills while they are at it.
The students have participated in four sessions so far. While it began with a lot of feet watching, robotic leg movements and awkward hand positioning, there has been a genuine improvement in the dancing skills. The students are also starting to feel comfortable with each other and there is a positive atmosphere when the students come together. With all progressive dances, the salsa and the merengue are just two of the dances the students learn. The program culminates in a dance finale at Box Hill Town Hall as the students get to strut their stuff and perform the dances they have learnt.
We value very highly this relationship with Our Lady of Sion College and thank them for this opportunity. A big thank you to Mr Rieusset, Year 10 Coordinator from Our Lady of Sion College for all his work behind the scenes which has made his program possible.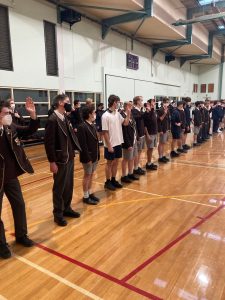 Mr Mick Lafferty
Deputy Principal – Students