Date:
Shine a light on the positives
In a time when all that seems to be highlighted is the doom and gloom that exists in the world, it is important to shine a light on the positive aspects where our community has risen above the clouds.    
Whitefriars Trivia Night
The inaugural Whitefriars Kahoot Trivia Night Friday 27 August was an overwhelming success with 146 teams entering. Huge credit must go out Charlie Schroder, Edward Levi and Baxter House who put the trivia together and hosted the evening. Sporting a ravishing turtleneck, tuxedo and stylish formal wear, these boys put on a dazzling performance of humour and quick wit throughout the night. Congratulations to the Levi family for taking out first place. There was a rigorous auditing process to ensure co-host, Edward Levi, did not collude with his family in any way. Second place went to Mr Height and Mr Allardyce and third place was the Sparrow family.
Blood Bank
Year 12 student, Jake De Andrade single handedly resurrected the Whitefriars Blood Bank Donation group which had lay dormant for several years. Jake arranged for 21 fellow Year 12s to donate blood recently in a fantastic act of service. Jake put out a call to his year level and the response was amazing. During a time when we would be forgiven for being a bit self-centred and concerned about our own issues and challenges, Jake and his friends demonstrated what it truly means to put others first.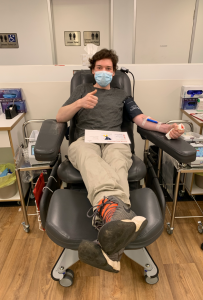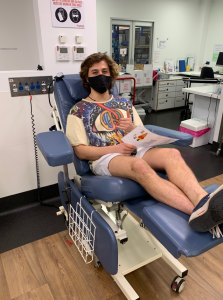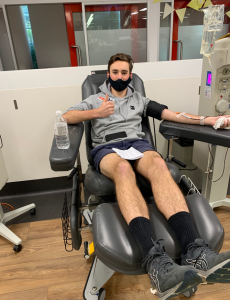 Mother and Son Evening
Whitefriars has been creative in exploring new ways to stay connected as a faith learning community. On Tuesday evening, 7 September, over 90 mums/female mentors and their sons gathered online for a virtual Time & Space at Home event. Whitefriars has held this event annually – albeit physically – at the College for over 8 years. It was fantastic to see so many families gather to stay connected with each other and with our community online. The key part of the evening is the sharing of 'treasures' – an item which says something about the relationship with the other person. There were many surprises, smiles and even a few happy tears – it was a very humbling experience.
Year 12 Rugby Jumpers
The Year 12s have been dealt some pretty savage blows this year with several rites of passage connected to their final year of secondary school cruelly taken away. While the boys realise this is beyond anyone's control, this provides no solace for them. To provide a small glimmer of happiness in amongst a cloud of restrictions, a group of dedicated staff made the traditional Year 12 rugby jumpers a reality by packaging them up and posting them to the boys. Along with a $20 UberEATS voucher, we hope this puts a smile of the boys faces and conveys to them that we are thinking of them.
I wish all members of the Whitefriars community a safe and restful Term 3 break and we hope to see the boys back on-site as soon as possible.
Mick Lafferty
Deputy Principal – Students