Date:
One Journey Ends, Another Begins
The final Pastoral Care session, the final class, the final purchase at the canteen and the final time the same boys will gather in the same place…forever. While this sounds quite dramatic, it is true. How do you prepare to change something you have done for six years in a row? This is what the Year 12 cohort of 2022 are currently experiencing. With every highlight, bump in the road and everything else in between, the class of 2022 come to the end of their Whitefriars journey. At these times, it is important to reflect, remember and acknowledge the journey. To help them with this process, I asked them two questions – what they will miss about Whitefriars and what they are grateful for. Below is a sample of their responses and a window into why Whitefriars is such a special place:
What will you miss about Whitefriars?
One thing I will miss about Whitefriars is the close and friendly connection between all staff and students (Zac Knight).
I am really going to miss seeing my mates every day, few places can give you the opportunity to see your mates every day like this school has done for us. Could not have asked for a better group of lads to go from 7 to 12 with (Wes Ball).
I am going to miss the ability to come into school and catch up with my best mates every day of the week. It will be the thing I miss most about my high school life and something I will miss dearly (Ryan Dickenson).
Most of all, the journey. From Year 7 it becomes clear what there is to look forward to in the years to come, which acts as a motivation to persist with our studies, extra-curriculars, and contributions to the college community. For a lucky few, like myself, that journey eventuates in having the chance to lead the college (Luke Verhoeven).
The community feeling, always having someone to chat about things going on in or outside of school and always feeling safe and secure to do so without judgement (Patrick Brugman).
The thing I will miss most about Whitefriars is the community and the connections with so many people that have built over the years. I will miss not being able to see so many people who I have a good relationship with everyday whilst also having the opportunity to draw on the knowledge and experience of all the fantastic staff (Jacob O'Brien).
As my time at Whitefriars draws to a close, I believe to reflect reminiscently on the unique essence of brotherhood that Whitefriars encapsulates through the "Friars Spirit." My journey at Whitefriars, from being a young adolescent to now an aspiring gentleman, can owe its trust to the support and closeness of the Year 12 cohort – which is something of a unique environment that is often absent in workplaces, co-curricular teams, and the wider society collectively (Joshua Adams).
What are you grateful for?
One thing I am grateful for from Whitefriars is the many extra-curricular opportunities that I was presented with throughout my time here (Zac Knight).
I am grateful for all the opportunities that Whitefriars has given us for so many different things. All the food days, Mt Carmel days and all the classes with mates (Wes Ball).
I am grateful for the ability to be given so many new opportunities that otherwise I would not have been able to take part in. All the new sports, public speaking, and competitions I have taken part in over my years at Whitefriars are all opportunities that I am so grateful for (Ryan Dickenson).
I am most grateful for my fellow Year 12's, who I have had the privilege of growing up with for the past six years. They have been the people I trust most, my best friends, and are the biggest part of my personal development, helping me to become the best I can be (Luke Verhoeven).
The great support the school has for students who are visual or hands-on learners (Pat Brugman).
I am grateful for the continued support and assistance that has always been provided to me at Whitefriars. Although school life has not always been the easiest, I know that I have always been looked out for and given a nudge in the right direction when needed. To have people who I trust and connect with that I feel comfortable turning to for support is appreciated and something that has made Whitefriars life a lot easier (Jacob O'Brien).
I am grateful to have been supported by amazing, 'down-to-earth' teachers and staff, both past and present, who have supported our learning and extra-curricular involvements presented to our cohort whilst at the college. Their expertise and worldly experience have, I believe, enriched our ability to be prepared for what may confront us later in life (Joshua Adams).
I am grateful for the relationships that I have with teachers and students (Nathan Randall).
I am grateful for having the opportunities throughout school and my pastoral care teacher (Jaxon Fitzpatrick)
When I leave school, I am going to miss seeing my mates every day and I am also going to miss playing school sport because I played all throughout my time at Friars (Ollie Clifford).
I am grateful for the teachers I have had, as some have had a significant impact on me (Matthew Sepsakos).
I wish the graduating class of 2022 every success, happiness, and prosperity with whatever adventures you have come your way. You will not be forgotten. While you finish your time as Whitefriars students, you become Whitefriars Old Collegians. Never forget that. Once a Friar, always a Friar.
National Club Basketball Championships
At Whitefriars, we have many talented young men who excel in a variety of pursuits beyond school and deserve recognition. During the Term 3 holidays, Murphy Quinn (Year 8), Romeo Cuberes (Year 8) and Ryda Devers (Year 7), participated in the National Club Basketball Championships and took out the gold medal. To get to the national level in anything is an outstanding achievement and requires enormous dedication. The team played 10 weeks of local grading games and progressed to the State Championships, which they won. The boys then qualified for Nationals a week later. The boys then travelled to Sydney for the National Championships which consisted of eight games. In the grand final, the boys proved too strong for their Queensland opponent, defeating them 88-51. Congratulations to the boys on a tremendous accomplishment and to the parents for their unwavering support.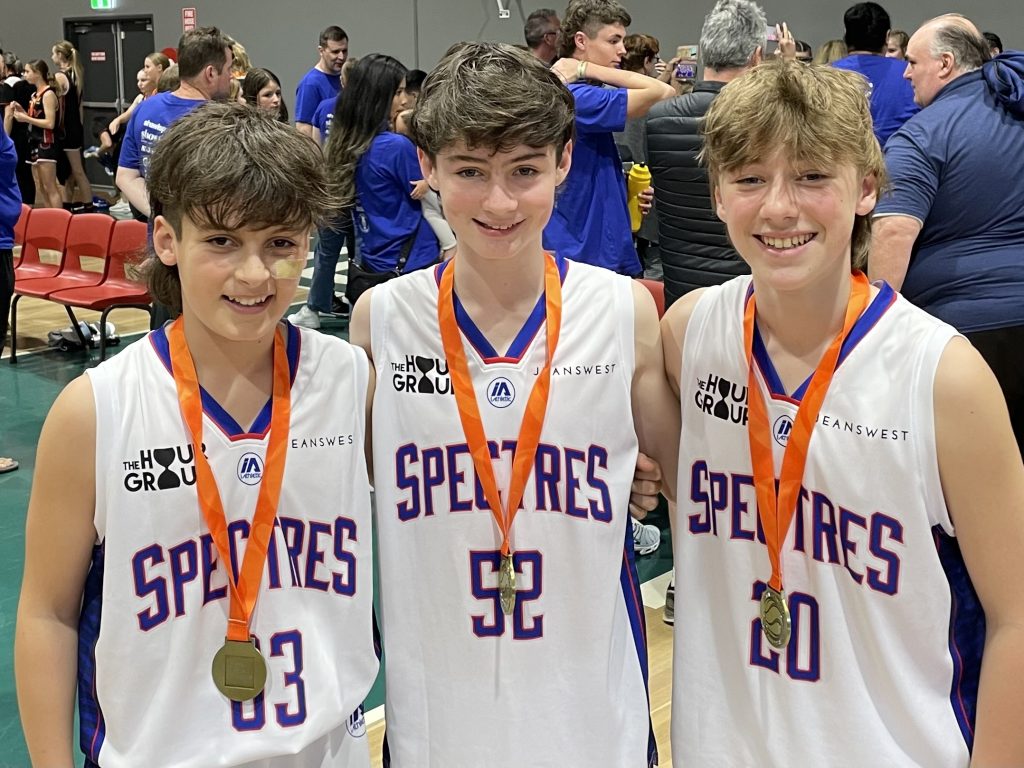 Year 9 Social
For the first time in 3 years, Whitefriars College hosted Our Lady of Sion College, Catholic Ladies College, and Sienna College for the Year 9 Social. This is a fantastic opportunity for the students at each school to have fun, forge friendships and expand their social circles. In a rare event nowadays, over five hundred students from each College represented their schools with aplomb. It was also wonderful to see over thirty staff members from each school come together in support of this event. I would like to thank Kelly Hoinville-Catania, Student Empowerment Leader at Whitefriars College, for all her work in organising this successful event. I would also like to thank the staff from Whitefriars who came to support this evening and without whom, we would not be able to run such an event.
Mr Mick Lafferty
Deputy Principal – Students