Date:
Monash Scholars Class of 2021–2023
The following students from Whitefriars College have been offered a place in the Monash Scholars Class of 2021–2023.
Jacob Barrett
Johnny Papadopoulos
Amin Yekta
The boys were nominated because they have met the following criteria.
They –
Are in the top 10% academically for their year level
Have demonstrated leadership qualities and a willingness to contribute to our school and in the local community
Are University focused
Are willing to commit to the various opportunities offered through the Monash Scholars program.
Today Mr Murphy met with the boys to congratulate them and to discuss what the program will mean to them as they enter year 11 and 12. The boys told him about how excited they are to be part of the Monash University academic community and how they intend to use this opportunity.
Well done boys.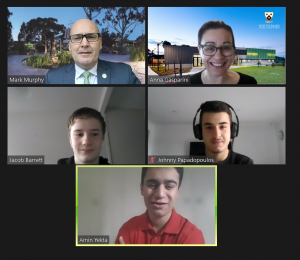 Anna Gaspirini
Careers