Date:
From the Principal – Almae in Fide Parentis
Dear members of the Whitefriars College Family,
One of the three tenets of the Carmelite charism is Community, (the other two being Contemplation and Service). When I hear this word, my mind is drawn to the idea of people being together, living together as part of a larger society. However, there is a crucial element missing from this flimsy definition, and that is that, in my opinion, a community should share a common characteristic, interest or belief. This is the glue that holds a community together and gives them purpose, otherwise it is just a group of people who live/work/study in close proximity to each other.
The Whitefriars community is one that not only comes together each day in the physical sense. More importantly, it is one that shares a common interest, purpose and a shared set of values and beliefs that binds us together with the ultimate aim of educating and developing gentle men in the Catholic Carmelite tradition of contemplation, community and service.
Over the past two weeks I have witnessed many examples of community at Whitefriars. From the ritual and ceremony of our Opening Mass at St Patrick's Cathedral, grounded in our shared faith, to the energy and action of our House Athletics carnival at Tom Kelly Athletics Track last Thursday, to the rites of passage and development of firm relationships associated with our House Gathering masses, held over past couple of weeks. There is a diversity of purposes associated with these events, but the same motivation to build a shared understanding of what community truly means at Whitefriars.
I believe this shared understanding is grounded and founded in our College motto – Almae in Fide Parentis – in the care of a loving mother. At last week's Opening Mass, I shared some thought on this idea with our community. Below you will find an extract from my address on this occasion. I recommend it to you as it provides some clues about our aspirations for all the young men of Whitefriars.
Almae in Fide Parentis, in the care of a loving mother. It is the motto of our College which resides on your blazer pocket. It's a bit of an unusual motto really, particularly for a boys school. Most schools have mottos which talk about striving or excelling or shining or being the best. They are generally aspirational or inspirational ideas that motivate, stimulate or provoke. I believe that the Whitefriars motto achieves all these aims and more. There is no greater challenge to rise to, no greater model to aspire to, than to be like Mary – the mother of Jesus.
I am sure you have all seen the statue of Mary and the teenage Jesus which stands in the middle of our reflective garden outside the chapel. Like me you probably pass it several times a day as you move between classes. Have you ever taken time to stop and take a good look at it? The sculptor of this beautiful work was a past student at our College, Peter Schipperheyn, who created this image to commemorate the 40th Anniversary of Whitefriars College. Peter's brief was to capture the essence of our College motto –in the care of a loving mother.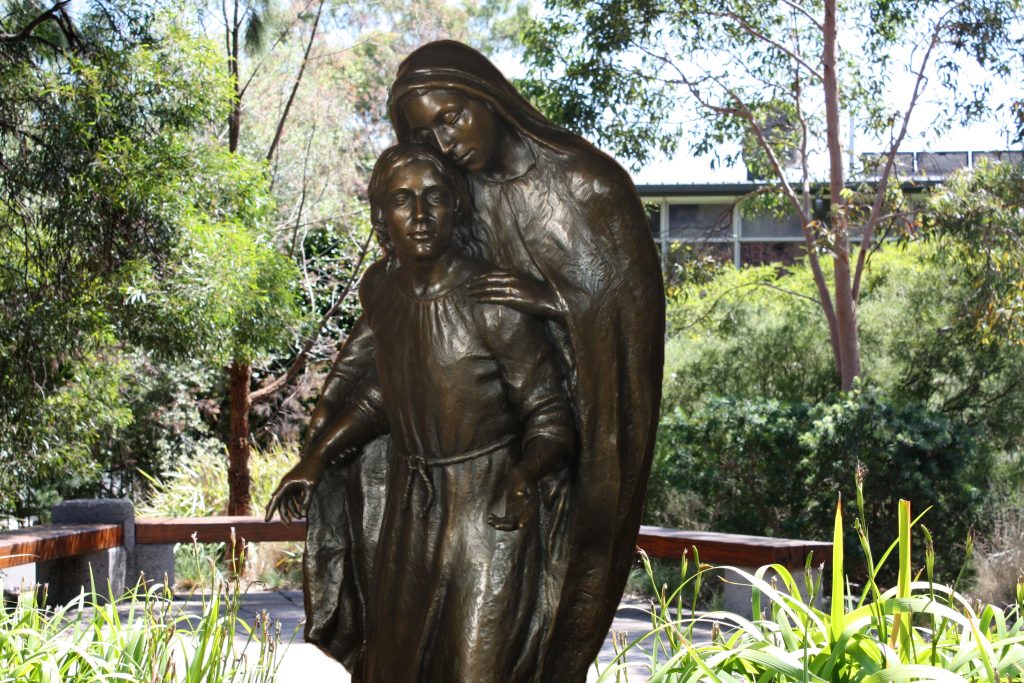 When I look at this image, I am drawn to Mary's hands. Her left-hand rests gently on her son Jesus' shoulder. This gesture demonstrates the unconditional love of a mother for her son. A mother's instinct is to nurture and protect her child, and for him to know that he is loved and that he is never alone. Mary's other hand appears to be guiding her son and giving him a gentle nudge of encouragement to go out and make his own way in the world.
Through this work the sculptor is speaking to me and to you. He is challenging us to reflect on how we can aspire to be like Mary for each other. How do we show care and support to each other in this community? How do we challenge each other to realise our hopes and dreams?
Perhaps the answers lay in two ideas – Empathy and Encouragement. Empathy, is about looking beyond yourself, putting yourself in another person's shoes and developing awareness and understanding of who they are which can lead us to knowing how best we might support that person. St Mary Mackillop put it best when she said, "never see a need without doing something about it."
Encouragement goes hand-in-hand with empathy. If each of us could encourage one person every day, what a powerful affect it would have. Whether it be in music or sport or art or chess or academic achievement or just in life we have the opportunity to lift someone up. Encouragement breeds confidence, feelings of recognition and even courage us to continue to pursue our dreams and our goals in every field of endeavour.
Through each word of encouragement and each act of empathy you can make someone's day, perhaps even their year. So, I encourage you to seek opportunities to show empathy and encouragement towards others in 2023.
Finally, if we truly want to be like Mary and live out the motto on your blazer pocket:
Take a leap of faith every now and then
Put your own needs aside and go out to where the real need is
Reflect and ponder the Good News of Jesus in your heart
Don't run away when times are hard and
Challenge each other to be great
I wish all member of the Whitefriars community every success in whatever fields of endeavour you pursue here in 2023. And remember that at Whitefriars, we endeavour to be like Mary – Almae in Fide Parentis.
Mr Mark Murphy
Principal