Date:
From the Acting Principal – Canonisation of Titus Brandsma and Mother's Day
On the 15 May in St Peter's Square, his Holiness Pope Francis will canonise the Carmelite, journalist and Professor, Titus Brandsma, martyred at Dachau (1881-1942).
Fr. Míceál O'Neill, O.Carm, Prior General, recently wrote that as an example and model, we see in Blessed Titus what it is to be a decent human being, a well-formed and committed religious and Carmelite, a saintly priest, a talented teacher who loves his students and a journalist who is dedicated to the primacy of the truth and all the best principles of good journalism. In addition, we are moved to the depth of our being by the story of his last months. Here we see a child of God who finds that his ultimate happiness lies in God and because of this he is at peace even in the most awful of circumstances.
Titus held no grudge against those who trampled upon his ideals or those who eventually took away his life. His wanting everyone to be saved is a very clear sign to us today of how we must dedicate ourselves always and everywhere to the work of the Gospel and use all the gifts of Carmel to produce in this world the kind of justice that respects the dignity of every child of God. Blessed Titus Brandsma, soon to be Saint Titus Brandsma, pray for us.
Anno Brandsma was born in the Dutch province of Friesland in 1881. He joined the Carmelite Order in 1898 taking his father's
name, Titus, as his religious name. He made his First Profession in October 1899 and was ordained priest on 17 June 1905. As an academic Titus specialised in philosophy and mysticism. He helped to found the Catholic University of Nijmegen in 1923 and later served as Rector Magnificus.
In the years before the Second World War Titus was openly critical of the Nazi ideology and during the occupation of Holland, he defended the freedom of the Press and of the Catholic Press in particular.
Titus was arrested in January 1942 and sent to Dachau Concentration Camp.
During the long months of imprisonment in various prisons and concentration camps, Fr Titus lived together with several Protestants, some of whom would later testify during the beatification process, emphasizing his generosity, kindness and deep trust in the Lord.
This does not mean to say that he was a "diplomat," nor that he lacked strong ethical and religious principles. Indeed, after the Dutch invasion Professor Brandsma would show his firm opposition to some of the Nazi government's measures. For example, when he refused to comply with the obligatory order to expel Jewish children from schools, and when he told the directors of Catholic newspapers that they must refuse to publish Nazi propaganda. However, despite his firm rejection of National Socialist ideology, he never showed any hatred toward the guards of the Lager for what they did to him.
Moreover, Titus invited the religious whom he met in Dachau to pray for them. Deep down, he believed that yielding to hatred would be the true victory of evil.
Titus never hated the Germans either as a people, as a nation. When the Gestapo sergeant Hardegen asked him to write a small essay about the reasons why the Dutch, and especially Catholics, opposed National Socialism, the prisoner developed a brief composition in which he elaborated on the philosophical, ethical and religious motives (a theme about which he had spoken frequently in his university classes). Despite the head-on opposition, the text concluded with a beautiful blessing: God bless the Netherlands! God bless Germany! May God grant these two peoples to return to the path of peace and freedom, and to recognize His Glory for the good of these two nations that are so close.
Fr Titus was killed by lethal injection in Dachau on 26 July 1942. He was beatified in 1985 and will be canonised as a martyr on Sunday week, 15 May 2022.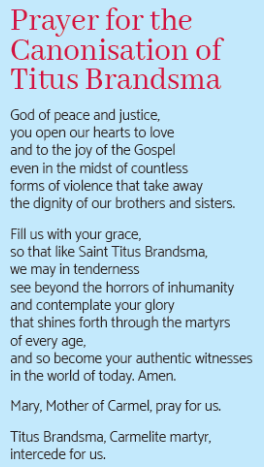 Mother's Day Breakfast
Last Thursday morning the College hosted some 580 mothers and sons at its' annual Mothers' Day Breakfast event, which provides a wonderful opportunity for some special mother and son time.
Thank you to all those boys who lovingly hosted their mums – and to all those mums who dragged their sons out of bed so early in the morning with the promise of tea, coffee, croissants and muffins!
Thank you also to our guest speaker, Sally Freeman, mother and Non-Executive Director of the Melbourne Football Club, along with a plethora of other company board involvements.
Sally spoke personally and eloquently of her life experiences and emphasized to her audience the importance of authentic collaboration in all aspects of life.
Click here for our Mother's Day photographs: https://www.whitefriars.vic.edu.au/gallery/2022-mothers-day-breakfast/
Special thanks to the Development and Enrolment and Maintenance teams for all of their work in bringing this event together.