Date:
Fostering Literacy Across the Curriculum
Whitefriars College is committed to the ongoing improvement of student learning outcomes. Our fortnightly Professional Learning Afternoons (PLA's) provide time for both teaching and non-teaching staff to work together on problems of practice and to learn together. In truly high performing schools, all members of the community are learning together, all of the time.
College staff are currently working with Dr John Munro, a renowned expert in the areas of literacy and education to ensure that common approaches to literacy are employed in a systematic way, and with intentionality across all classrooms. Through the use of High Reliability Literacy Teaching Procedures (HRLTPs), we aim to improve the literacy capabilities of our students and in turn, foster deeper engagement in the learning process. We were lucky enough to connect with Dr Munro last Wednesday, who delivered a professional learning session about the role of literacy in learning.
As the parent of a primary school student, it has been immensely joyful to watch my own son learn to read. This began as a two-year-old with nightly renditions The Very Hungry Caterpillar, "he was still hungry!" and has since evolved into a strong interest in all things Harry Potter. Just as Eric Carle's Very Hungry Caterpillar taught my little one about the life cycle of a butterfly, in a school context, the broad purpose of reading texts is to create new knowledge. Through our work with Dr Munro and our use of the HRLTPs, College staff will explicitly support students to process written texts in order to learn new concepts, link these concepts to their existing knowledge and summarise what they have learned. Ten staff members are being trained by Dr Munro to work as Literacy Coaches, leading the learning of their colleagues and facilitating the reflection on our evidence of impact.
We look forward to sharing this work with the community in the next 18 months.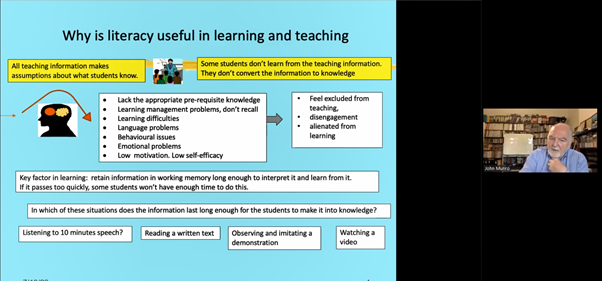 Mrs Catherine Spurritt
Deputy Principal – Learning and Teaching