Date:
Cultural Diversity Week
This week the College celebrated Cultural Diversity Week. The activities throughout the week provided an opportunity for staff and students to put into action our College global citizenship statement, that in the context of our Catholic faith and Carmelite tradition, encourages all members of our community to develop cultural understanding, an awareness of our bias and being reflective to challenge this thinking, along with valuing social justice, diversity and the environment.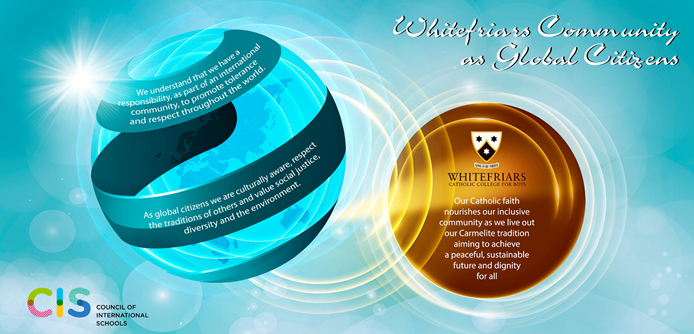 A focus this year during Cultural Diversity Week was to deepen our understanding of intercultural understanding to be much more than learning just about culture (food, flags, festivals). Rather, it is fundamentally about social justice, equity and social transformation (Hassim, 2013), enabling everyone to live, learn, work and thrive regardless of cultural backgrounds, perspectives and experiences.

(Council of International Schools, 2021)
Conversations about race and diversity can bring about feelings of fear, anger and frustration and as a result, these conversations are often avoided. However, confronting with these issues are truly important, especially with our students and staff who are cultivating their understanding and their perceptions of the world.
Asking questions is effective way to understand race and diversity as it encourages curiosity and care, whilst creates a safe space to be inquisitive of another culture, allowing an opportunity to pacify concerns, address confusions and support an understanding and appreciation of differences. Additionally, it can raise our own questions by focusing on topics of race, diversity and exploring differences so that one can recognise themselves becoming an advocate of positive change. ​
Pastoral Care Teachers have provided video prompts and questions and guided meaningful classroom discussions regarding race to promote and foster diversity, equity and inclusion. All important aspects of becoming a global citizen.
Thank you to Kelly Hoinville (Student Activities Coordinator) for developing the resources and to Pastoral Care Teachers facilitating conversations.
Mark Ashmore
Deputy Principal – Learning & Teaching