Date:
Celebrating the pursuit of personal excellence
At our recent Celebration Evening, it was both an honour and privilege to present awards to students who have been recognised for truly making the most of their Whitefriars College education this year. At this important College event, we recognise and reward leadership and service, academic excellence and endeavour. But what struck me most about the recipients of these awards, was that their contribution to the life of the College extends well outside of the four walls of the classroom. These students are our quiet achievers, our leaders, our volunteers, our artists, our performers, and our sportsmen. These students are responsible for the vibrancy of our great College!
Recipients of Academic Excellence awards are identified based on their achievement on school-based assessment tasks across the 2022 academic year as recorded on Whitefriars Learn. At Celebration Evening, we commend the achievements of the ten highest performing students in each year level. The Academic Dux for each year level is also awarded to the student who has achieved the highest overall average percentage for his cohort.
Recipients of Endeavour awards are identified for their sustained commitment to personal growth in their learning, through a subject teacher-led nomination process. These awards seek to acknowledge students who are committed to and motivated to pursue personal excellence in their studies, irrespective of their achievement on assessment tasks. These students, indeed, exemplify what it is to be a Whitefriars Learner.
I acknowledge the achievements of each of these students across the 2022 academic year and congratulate them on their achievements. I also extend my thanks to Mr Ash Payne, Mrs Helen Kelly and Ms Kelli Joiner for the role that they play in ensuring that the awards process at Whitefriars is a fair, transparent and defensible one.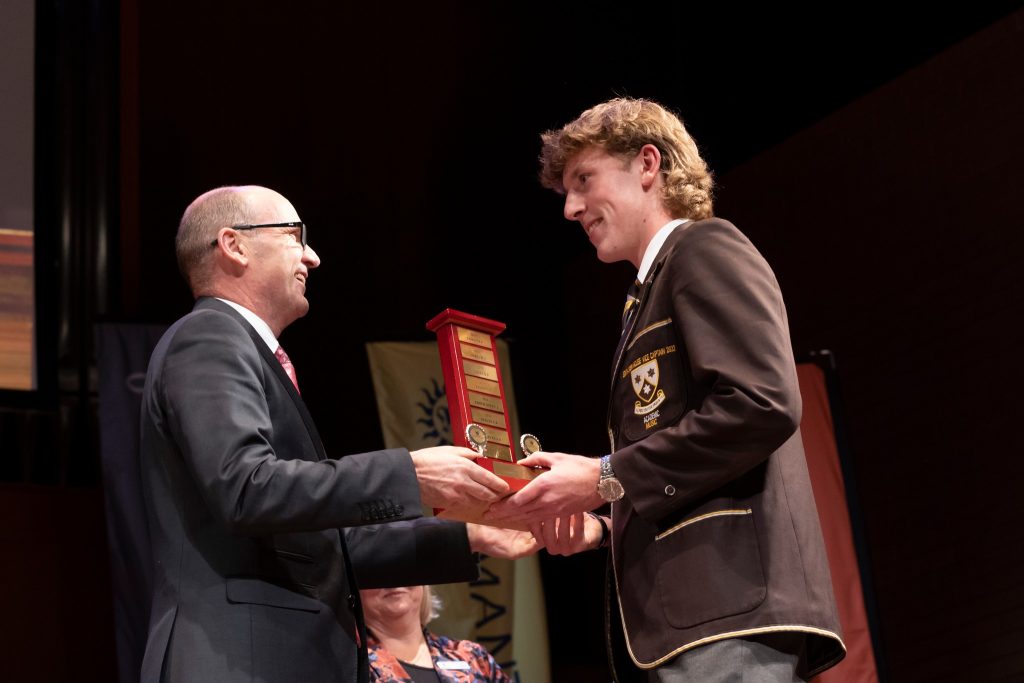 Surname
Name
YR
Award
Alder
Jamie
8
Academic Endeavour
Al-Wahab
Hasan
7
Academic Excellence
Andrews
Jack
7
Academic Excellence
Apostolopoulos
Jack
10
Academic Endeavour
Arifovic
Keegan
8
Academic Endeavour
Barclay
William
12
Principal's Award
Barker
Nate
7
Academic Endeavour
Barrett
Jacob
11
Academic Excellence
Full Academic Colours
Biddle
Lachlan
7
Academic Endeavour
Borowski
Daniel
7
Academic Excellence
Bourke
Peter
9
Academic Excellence
Bowring
Jack
11
Academic Endeavour
Carson
Noah
9
Academic Endeavour
Clark
Jonathan
10
College Service & Excellence Award
Couper
Landen
11
College Service & Excellence Award
Curiale
Max
7
Academic Endeavour
Charlie Milesi Award
Daniels
Connor
10
Academic Endeavour
Davis
Winton
9
Year Level Dux and Half Colours
Deane
Phillip
10
Academic Excellence
Full Academic Colours
Dickenson
Ryan
12
Fr Noel Kierce Award
Dorrat-Sims
Thomas
7
Academic Endeavour
Dorrat-Sims
James
9
College Service & Excellence Award
Duffy
Ben
12
Fr Frank Shortis Award
Ellis
Cameron
9
Academic Excellence
Evans
Harrison
11
Michael Sazenis Memorial Award
Fleming
Andrew
9
Academic Endeavour
Frisina
Adrian
11
College Service & Excellence Award
Geason
Daniel
9
Academic Excellence
Griffiths
Alexander
8
Academic Excellence
Grigoletto
Thomas
11
Academic Excellence
Hallissey
John
8
Academic Excellence
Half Academic Colours
Hammerton
Samuel
8
College Service & Excellence Award
Hammerton
James
10
Academic Endeavour
Harrison
Adam
11
Academic Excellence
Half Academic Colours
Haste
Matthew
8
College Service & Excellence Award
Academic Excellence
Half Academic Colours
Hewitt
Jonathan
7
Academic Excellence
Ikonomopoulos
Ayden
11
Academic Endeavour
Imbriano
Glen
8
Academic Excellence
Ivanusic
Luka
7
Academic Excellence
Katos
Jonathan
9
Academic Excellence
Half Academic Colours
King
Conor
8
Academic Excellence
Kosi
Matthew
10
Academic Excellence
Half Academic Colours
Lamba
Ahsees
8
Academic Endeavour
Lee
Matthew
9
Academic Excellence
Half Academic Colours
Lee
Parker
8
Year Level Dux
Half Academic Colours
Lemmer
Ashley
10
Academic Endeavour
Lewison
Thomas
7
College Service & Excellence Award
Little
Harrison
10
Academic Excellence
Half Academic Colours
Loads
Alexander
7
Academic Excellence
Lochner
Samuel
10
College Service & Excellence Award
Lyons
Joshua
8
Academic Excellence
College Service & Excellence Award
Half Academic Colours
Mair
Oliver
9
Academic Endeavour
College Service & Excellence Award
Malcolm
Archie
10
Academic Excellence
Full Academic Colours
Malcolm
Edward
10
Academic Excellence
Full Academic Colours
Mallios
Lukas
10
Academic Excellence
Full Academic Colours
Mayorkinos
Aidan
11
Academic Excellence
Full Academic Colours
Mileto
Agostino
7
Academic Excellence
Money
Darcy
11
Academic Endeavour
Morcom
Thomas
11
Academic Endeavour
Morrison
Lachlan
10
Academic Excellence
Murphy
Harrison
10
Academic Endeavour
Murray
Travis
7
Academic Excellence
Murray
Trent
7
Academic Excellence
Mutton
Thomas
12
Half Colours
Nguyen
Ryan
11
Academic Excellence
Full Academic Colours
Nguyen
Lachlan
7
Year Level Dux
North-Coombes
Ned
10
Academic Endeavour
North-Coombes
Nathan
11
Academic Excellence
O'Connor
Evan
12
ADF Long Tan Youth Leadership & Teamwork Award
Full Academic Colours
O'Farrell
Declan
9
College Service & Excellence Award
Oppy
Kane
10
Academic Endeavour
Palumbo
James
10
ADF Long Tan Youth Leadership & Teamwork Award
Papadopoulos
John
11
Academic Excellence
Papanastasiou
Leon
11
College Service & Excellence Award
Partow
Kayvan
8
Academic Excellence
Paterson
Ryan
11
College Service & Excellence Award
Pauli
Andre
11
Academic Excellence
Pitcher
Thomas
9
Academic Excellence
Prokopis
Christos
8
College Service & Excellence Award
Quinlan
Nicholas
12
College Service & Excellence Award
Raso
Matthew
11
Academic Excellence
Reginato
Jacob
9
Academic Excellence
Sarlos
Joshua
10
Academic Excellence
Half Academic Colours
Savy
Joel
11
Year Level Dux
College Service & Excellence Award
Full Academic Colours
Seneviratne
Anthony
10
Academic Excellence
Half Academic Colours
Stephens
Hayden
8
Academic Excellence
Su
Albert
9
Academic Endeavour
Taylor
Flynn
7
Academic Endeavour
Thang
Lucas
8
Academic Excellence
Half Academic Colours
Tymms
Jacob
10
Academic Endeavour
Wagner
Hamish
9
Academic Excellence
Wallace
Austin
8
Academic Endeavour
White
Thomas
9
Academic Excellence
Half Academic Colours
Young
Wesley
10
Year Level Dux
Catherine Spurritt
Deputy Principal – Learning & Teaching