Date:
2023 College Captains and Student Voice
2023 College Captains
At Whitefriars, student leadership is a crucial aspect of the College as we value working with students in the co-creation of our great school. As such, we take very seriously the selection of Captains to lead our College. After 6 leadership formation sessions run by Mr Joshua Vujcich, Deputy Principal – Faith and Mission, a 2-day student leadership retreat, speeches delivered by College Captain candidates to their cohort, and an interview involving the Principal, Deputy Principal – Students and Faith and Mission, Student Empowerment Leader and the 2022 College Captains (Evan O'Connor, Luke Verhoeven and Jordan Goss), it gives me great pleasure to announce the College Captains for 2023: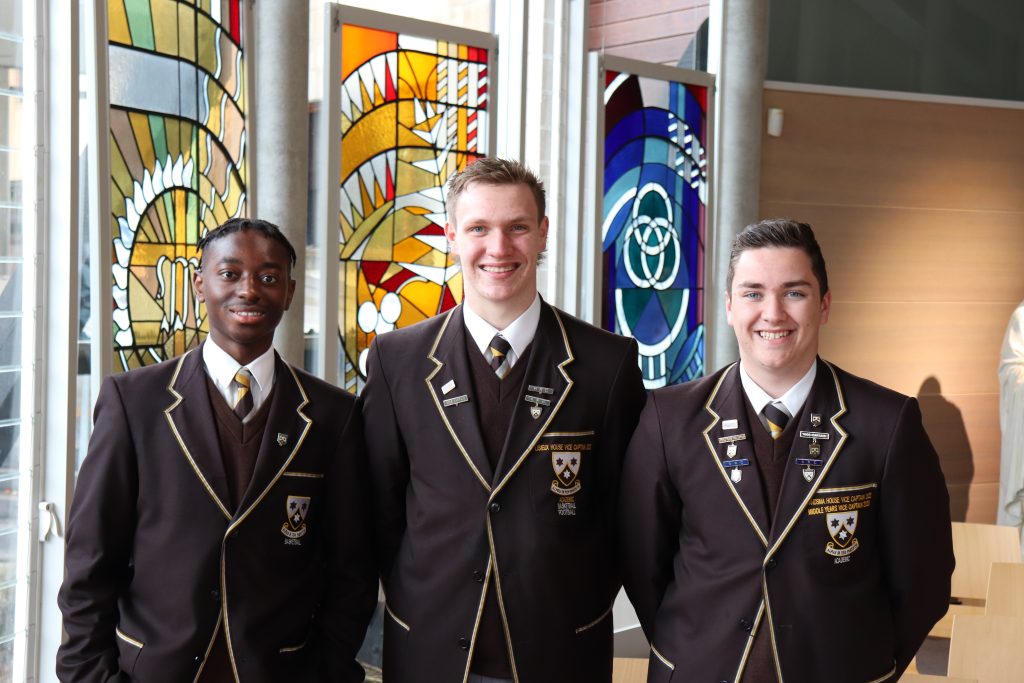 College Captain – Harry Evans
College Vice-Captain – Acelin Adama
College Vice-Captain – Joel Savy
These young men have been wonderful ambassadors for the College over the past 5 years and I wish them every success in leading the College in 2023.
Student Voice Matters
There has been much research and commentary around the positive impact student voice and agency can have in the life of a student and the development of a school. At Whitefriars, we have taken a number of steps to improve the extent to which our students contribute to, and co-create, their school. Our student leadership program has grown to include students of most year levels and targeted leadership training has also taken place. The College has developed a new leadership role titled, 'Student Empowerment Leader', whose job it is to develop student voice and agency at Whitefriars. Students have also been invited to attend specific staff team meetings, including the Wellbeing Team which I chair, to contribute their views on programs, initiatives, policies and important College decisions. Each of these concrete initiatives are a testament to our commitment to student voice and agency.
Jonathan Clark and Samuel Lochner tell us about their experience of their active contribution in the life of the school:
Through taking leadership opportunities at the college, I have been enabled to speak up about what I would like to see in the school and try to make a change for what I consider to be the 'better'. Being a part of a leadership team such as an SRC doesn't always mean making big changes or massive plans but raising issues and making little improvements that you feel are important. Leadership positions allow you to act as a medium between the college and the student population, simultaneously learning and engaging with the staff, teachers and coordinators. It involves developing new skills, techniques and understanding regarding acting as a team, standing up, planning and developing goals, and also acting as a voice for your cohort, speaking for those who might not otherwise be heard on what they feel is important, and working with your colleagues to put this all into effect to make a net positive at Whitefriars. The exposure that such a position gave me regarding administration at the school is so incredibly valuable, fostering a new found appreciation, but also somewhat of an understanding of the complex workings that make up the college. All in all, being a part of the Senior Years SRC and other leadership positions have given me the ability to raise my voice and make change, whether big or small, from drink taps and house points to events and uniform policies, for the better and what I, we, believe. Samuel Lochner Year 10 
I found it a great experience to be a part of a meeting (The Wellbeing Team) with other heads of various programmes, it showed me the side to the school that few of us generally see and that is what goes into making the students feel welcome and prepared for the future. It also offers a great insight into the thought process and other information that goes into creating policies that run our school and the careful consideration about everyone who will be affected it by it. I'm honoured to take part in this process and to act as a voice for the students to make sure the needs and considerations of our year level and others are taken into account.
Jonathan Clark Year 10
Mr Mick Lafferty
Deputy Principal – Students